Welcome to Opti-Gone International
Home of the Original Mirage
Welcome to Opti-Gone International
Home of the Original Mirage
Mirage® Volumetric Display:
World's Most Realistic 3-D Hologram Maker
Opti-Gone International is home to the Mirage® Volumetric Display: World's Most Realistic 3-D Hologram Maker. Made in the USA. Don't be fooled by imitators.
A Few of Our Prestigious Clients
The Giant Mirage Thrill Crowds in Museums
with World's Best 3-D Illusion
 The Giant Mirage can be seen at:
Buffalo Bill Historical Center – Wyoming, USA

Camera Obscura Museum – Scotland

Childrens Museum – Cairo, Egypt

Colleton Museum – South Carolina, USA

Council of Pushpa Gujlndiaral Science – India

Discovery Center – Ventura, USA

Discovery Museum of Tampere – Finland

Glasgow Science Museum – Scotland

History Museum at the Castle – Wisconsin, USA

Hong Kong Science Museum – Hong Kong

Iluseum – Belgium

Imagine Children's Museum – Washington, USA

Museen der Stadt Dresden – Germany
Mussee Suisse de l'Appareil – Switzerland

National Council of Science Museums – India

National Science Museums – Korea

National Library Board – Singapore

Pompeii Museum – Italy

Powerhouse Museum – Australia

Qanater Children's Museum – Egypt

Queen Victoria Museum – Tazmania

QUESTACON – Australia

Underwater Museum – Bermuda

Universitat Pompeu Fabra – Spain

Science Center Immaginario Scientifico – Italy

Science Spectrum – Texas, USA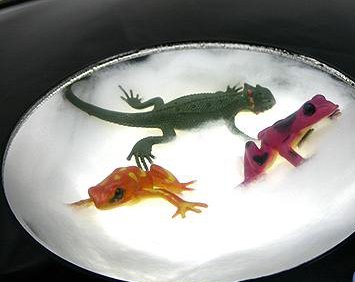 Actual photo as seen by the human eye.
There is nothing in the circle but an illusion!
And, it is visible from 360º.
Want to know more about the Giant Mirage?
For Tradeshow Exhibitors,
The Giant Mirage Stops Crowds in Their Tracks
The Giant Mirage® hologram maker has been a consistent crowd pleaser at tradeshows worldwide since 1992. In an environment where merely to capture a fewseconds of an attendee's time as he/she bustles down an aisle is considered a success, the Giant Mirage®has the power to stop people in their tracks as they marvel in fascination at the lifelike illusions it creates.
Our great diversity of clients over the years have used our revolutionary technology to promote everything from cosmetics to automobiles, surgical stents to small craft fittings, tobacco products to industrial lubricants, electronic chips to software applications, and timepieces to corneal implants.
We, at Opti-Gone International, have long experience working imaginatively with exhibit designers to achieve effects and results far beyond the expectations of our reasonably priced products.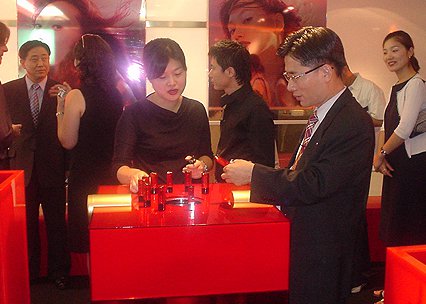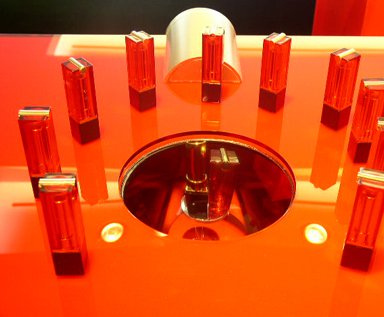 "First of all, I must say, thanks to you, we were able to finish the lipstick launching show successfully.
It was the event for local cosmetic brand called 'Amore Pacific'. You are not familiar with this company but it is the number one cosmetic brand in Korea and It has its branch store in Soho, NewYork.
All attendants and the related people from Amore Pacific were so impressed by your giant mirage.
As I promised, I send you the pictures that shows how the lipstick displayed using your giant mirage. Please see the attachment.
I may contact you again for my further purchase.
I thank you again for your kindness."
Jiwon Kang