The Mirage® 3-D Hologram Maker is a "Keeper" as a Promotional Item
POW! Your logo can be pad printed as a permanent "billboard" to advertise your company 24 hours a day on your client's desk.

WHAM! A miniature object of your choicecan be placed inside the Mirage® to create a fascinating "untouchable" illusion, drawing the attention of all who encounter it, inviting inevitable interaction.

Opti-Gone International can accommodate custom orders for as few as 250 Mirage®s for pad printing. Turnaround time can be as quick as four weeks.

If you have an idea that calls for 3D hologram excitement, call us to discuss how Mirage® can transform your vision into almost "reality."

Unforgettable desktop hologram maker makes an excellent branded gift.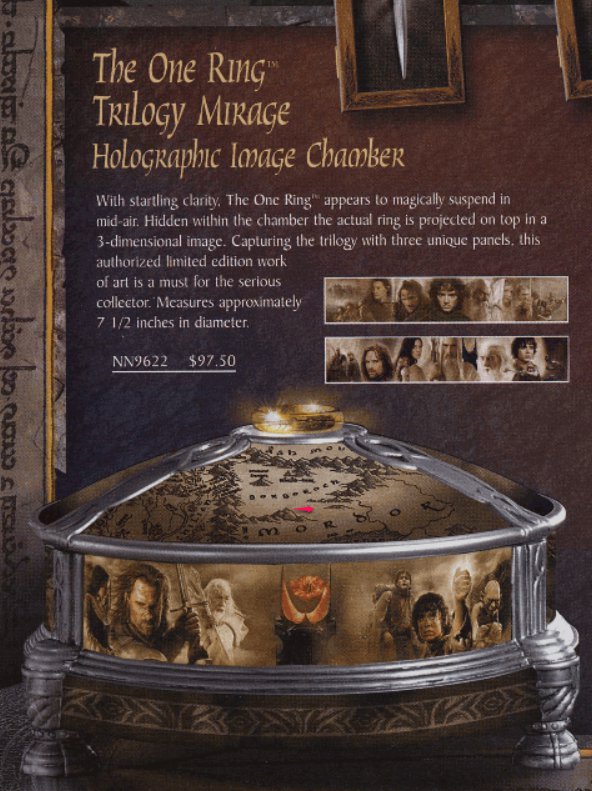 "LORD OF THE RINGS" MAGIC COLLECTIBLE FROM NOBLE
At the time when the Lord of the Rings Trilogy was wildly popular, Noble Collections called upon Opti-Gone International to provide them with a special Mirage® that could be concealed within a beautifully decorated porcelain collectors item that artfully captured the "magic" of the Ring.
April 21, 1988

Mr. Michael Levin
President
Opti-Gone International, Inc.
Box 8118
Van Nuys, CA 91409

Dear Michael:

Thank you for the extremely good service and customization of a unique product for our pharmaceutical promotion of Naldecon.

The Mirage units developed to emphasize the key attributes of our tablets and pediatric liquids were outstanding successes. Our Bristol Laboratories sales force was delighted with the material. Other ad specialty and direct mail vendors I work with in the midwest and eastern part of the U.S. have commented on the pieces being highly unusual and clever.

As far as I am aware, your company is the only source for the mirage unit at a quality level that we found acceptable.

Your willingness to do customization work that required special effort surely paid off for us.

Best regards,
Keith E. Ponader
Advertising Manager
KEP/pas