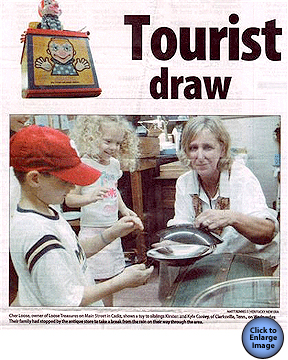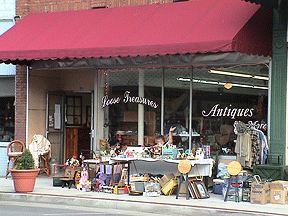 Nearly 4 years ago, in Cadiz, Kentucky my friend, Joyce, who painted pictures in my antique shop on Saturdays, brought in her "Mirage®" she had purchased in the Denver Airport, years ago. During our Annual Country Ham Festival that year, everyone enjoyed having fun with "Mirage®", especially my husband and I! It was decided we needed to find out if "Mirage®" was still being made. Many of our customers asked to buy Joyce's "Mirage®", so we were so happy to find Mike and his brilliant family of Mirage Makers still in business. Now… "Mirage®" is one of our most popular "Loose Treasures", here in Cadiz, Kentucky.
When customers come into our store we enjoy welcoming them with "Mirage®" and a little story about how it came be a part of "Hog Heaven", here in Cadiz, Kentucky. "Mirage®" never seems to grow older.  It adds to the memories "floating" around so freely and helps to make a few new ones in the process. Not everyone buys "Mirage®", but everyone smiles when they experience the amazement of not having "Little Baby Bud" there when they reach for him. This is the name we have given our display pig inside the mirrored sphere. Joyce painted a little rose bud on its forehead for us, to match "Mother Rosebud" which is a big cement pig in front of our store. Cadiz, Kentucky has painted pigs on the sidewalks and yards, they all have names and stories, so "Mirage®" fits right in and feels right at home here with us!
"The Mirage®" at Loose Treasures Antiques & More in Cadiz, Kentucky!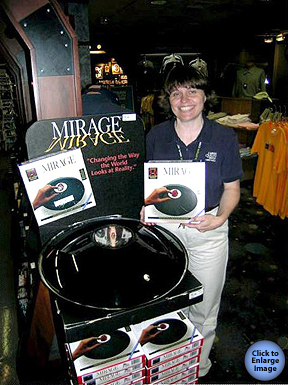 Our gift store has been selling the Mirage® for over ten years and it is still a top seller. It is fun to see the reaction on our customers faces when they see the Mirage® for the first time. It makes everyone smile from the oldest to the youngest. We have two displays so that everyone will get a chance to see it.
The Mirage® sells itself and many of our customers will call us and order more for family and friends. It's a guarantee sell and I can't imagine our gift store without it. It's been a pleasure working with Opti-Gone.
– Phyllis Cole
The Kansas Cosmosphere and Space Center is in Hutchinson, Kansas
"We love the Mirage®."
- Joe Slevcove, Discover Nature, Seaport Village, San Diego, CA
"We often get customers returning for a 'neat and unusual' gift (Mirage®). It does make a lasting impression."
- Connee Bretz, Miami Museum of Science, Miami, Florida
"A small child no more than two years old, tried to pick up the pig. She got the cutest grin on her face; she tried again and still had another grin. After trying several more times, she tried to bring her hand under the pig, to no avail. But she still had the grin and never got discouraged."
- Susan Goans, Cargo Bay Gift Store, Kansas Cosmosphere, Hutchison, Kansas
"The Opti-Gone Mirage® is one of a select few items that we keep on our magic counter and display. You know how everyone touches everything? That's one item we want them to touch. We've had a lot of fun with it."
- Anie Parrish, Queen of Hearts Magic Shop, Plano, Texas
"Mirage® has always been our most unique product. We have displayed it close to our register and it always generates astonished looks and comments."
- Eileen Farber, Scientific Wizardry, Boise, Idaho
February 9, 2002
Dear Michael:
I am the proud owner of one of your Mirage® devices which was purchased in late 1977. I have really enjoyed the Mirage® and amazed many people with the illusions it creates. Everyone that I show it to tries to touch the image of the objects and are really surprised when they grab empty space.
My Mirage® is in perfect condition even though it is nearly 25 years old. I still have the original box and instructions and still get a kick out of playing with it myself, besides being able to amuse other folks with it.
I have got my money's worth many times over and will still enjoy the Mirage® for years to come. I leave the Mirage® on my desk by my computer to have it handy when I have a visitor. I also take it to a "crackerbarrel" store where I hang out to demonstrate it to cronies of mine. Thanks for a lot of fun!
Sincerely,
Jack M. Dunn

Texas Man Still Shows Off Mirage® Bought in 1977
Hi Michael,
I filled a phone order from a BNL retiree who wanted to send some gifts to her granddaughter in another state for her birthday.
I highly recommended the Mirage® maker that we have in our BNL store, along with some pens and such.
Well, the phone call I just received was just gushing with praise for the Mirage maker!
Her daughter & granddaughter LOVE it. I'm really glad we carry them!
Regards,
Christine B. Carter, CMP
Christine B. Carter, CMP Supervisor, Quality of Life/BERA/Recreation Brookhaven National Laboratory
"Our Mirage®, located at the entrance of our science store, fascinates everyone who walks through the door! We cater to many school groups, and the children are very shocked when they reach for Miss Piggy and she's not there! 'How'd they do that?' is the most common reply… then they want to take it apart to see how it works!"
- Myrna R. Douglas, Omniplex Museum Store, Oklahoma City, OK
"It is not unusual for people to purchase four to six pieces at a time."
- John Cameron, Old Colorado Music Box Shop, Colorado Springs, CO
"We've been selling the Mirage® for 18 years. Young and old are intrigued by it. Kids stop by on the way home from school to share the Mirage®experience with friends. We've shipped them all over the US, and to Europe and Africa, too. We look forward to keeping a Mirage® on our counter for the next 25 years."
- Dina Berger, Age of Reason, Westport, CT